Ph.D. position in the Perceiving Systems Department
How to apply:
Send applications in English to
ps-apply@tuebingen.mpg.de
. Please include:
cover letter explaining why you want to do a PhD in the Perceiving Systems Department
resume or CV
1-2 page research statement
list of at least 3 references
scanned transcripts
Applications are considered on a rolling basis throughout the year.
If you prefer to send a hardcopy application, you may do so. Please address it to Melanie Feldhofer at the address listed on our
CONTACT
page.
Things we look for (not all required):
have research experience
have a Master's degree
have great grades
have letters from people who can talk about your research abilities
have letters from people who do research at an international level
have letter writers who are passionate about you
be passionate yourself
write well and present your CV and research statement well
have done something you think is important
want to do something important
know why you want a PhD
know why you want to do it with us
have failed or succeeded at something hard (it doesn't matter which)
Ways to be rejected:
you do not know anything about our department
you have not read any of our recent papers
your research statement is unrelated to our research
submit shoddy materials with grammar and spelling errors
fail to read this page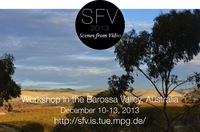 Scenes from Video Workshop, Barossa Valley, Australia, Dec. 10-13, 2013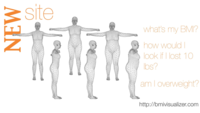 New BMI visualizer on-line. Visualize your BMI and learn how BMI relates to body shape using our 3D body visualization tool.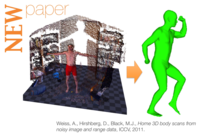 The 3D shape of the human body is useful for applications in fitness, games and apparel. Accurate body scanners, however, are expensive, limiting the availability of 3D body models. We present a method for human shape reconstruction from noisy monocular image and range data using a single inexpensive commodity sensor (the Kinect).