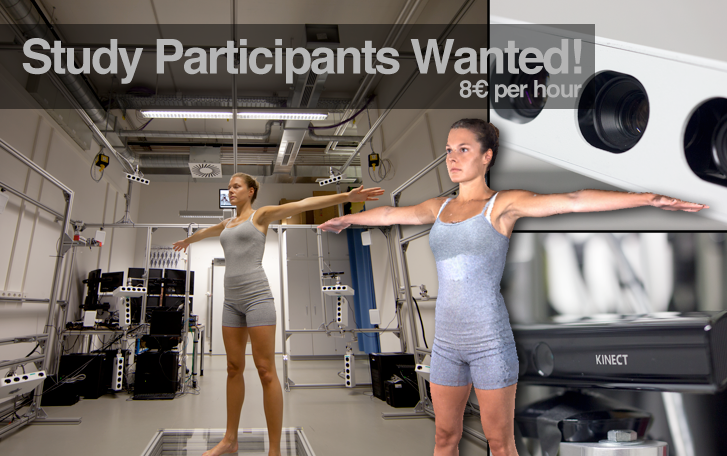 The Perceiving Systems Department is always looking for volunteers for our computer vision studies on human body shape and pose. Experiments typically involve taking photos, 3D scans, videos and measurements of participants' bodies.
Participants are compensated 8 € per hour for participation.
Contact Us!
If you're interested in participating in our experiments, contact:
Body Lab
Experiments usually take place in the
Body Lab
, room -1.A.16 on the basement level of the red MRZ building (Magnetresonanz Zentrum) at Spemannstrasse 41, Tübingen, 72076.
Please call +49 (0)7071-601-1803 if you have any problems entering the building or finding the lab.
Notes on Participation
For most experiments, you will be asked to wear tight-fitting clothing (e.g., bike shorts for men; bike shorts and tank top for women) and stand in a variety of poses.
You will be asked to remove your socks, shoes, jewelry and eyeglasses during the scanning portion of the session.
Standard anthropometric body measurements may be taken of your body, including various circumferences, skin folds, heights, and weight.
You may be asked to try on different clothing items and assess their fit.
Please note: Individuals who have an increased risk of epilepsy, physical limitations on natural movements, or a history of eating disorders or body dysmorphic disorder will be excluded from the study.
We look forward to your participation!